A beacon for all those who live for and love the sea
By Ted Crosbie

Saturday, December 15, 2012
The Lightkeeper: A memoir
Gerald Butler and Patricia Ahern
Liffey Press, €16.95
Review: Ted Crosbie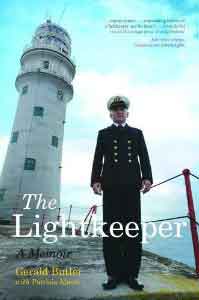 On the 704 miles of coast around our 32 counties there are about 70 lighthouses, the first of which was built by the Normans in about 1170 on Hook Head, Co Wexford. If one reads author Gerald Butler's memoir one will find that, at some stage in his long career, he has served in most of them. Born in 1950 — his twin was Edward and his father worked in the Roancarrig Lighthouse near Castletownbere — Gerald, one of 15 siblings, moved with the family, aged two, to the Galley Head lighthouse where his grandfather was installed as principal keeper. Thence the family were transferred to Ballycotton lighthouse where mother and family were based in the village, with his father spending three weeks on duty on Ballycotton Island each month and one week ashore. Tales were told of details of the lighthouse history and how building was commenced after the steamship Sirius was lost on the Smith Rocks, four miles south west of Ballycotton.
Father, mother and family were later transferred to the Dundalk Pile lighthouse and from there the family moved to Mine Head, Co Waterford, and then back to Galley Head. The twin brothers were a lively pair and after innumerable mischiefs were tasked to paint the lighthouse gleaming white in the Spring and polish the lantern lens. Gerald eventually went auctioneering in Clonakilty and Edward continued farming — within a year Gerald was called for 12 months trial period with Irish Lights.
Gerald Butler's subsequent working life brought him to many of our lighthouses starting at Baily Howth then to Inishtearaght, exterior custodian of Inishvickillane and then to his first posting on the Fastnet Rock. His description of how that magnificent tower is built of dovetailed granite is fascinating — the dovetailing allowing the tower to move three feet either side of the vertical when exposed to massive waves.
In 1972 he welcomed incoming President Cearbhall Ó Dálaigh to Skellig Michael, one of the first lighthouses to be fully automated. Gerald's career was building to a climax in the unforgettable year of 1979 when he served on the Fastnet Rock, a year which commenced in January with the explosion of Betelgeuse at Whiddy Island with the death of 51 people. This chapter describes the culmination of our lightkeeper's career.
Irish Lights and their lighthouse staff started winding down in the early '80s, driven by the development of satellite technology and modern communication and a departmental drive to de-man our coasts. With 30-metre waves in the south west and west coasts, and recent events such as the Tit Bonhomme tragedy, the sea reminds us that it never really changes and needs brave and skilled humans to keep guard of our coast and where required provide decisions on the spot and not in some cosy drawing room in Malahide.
This is an excellent memoir of a way of life gone for ever. I cannot recommend this book enough, a captivating account of the life of a light keeper & the intriguing Butler family Ted Crosbie